We talk about the day to day of our athletes and their most important achievements. We advise them in all academic and sporting decisions.
Two Andorrans in the United States
Andorra la Vella.- Andorran women's football is on the rise. If a few years ago the players who were beyond the country's borders could be counted on the fingers of one hand, and there were still some left over, today it is a reality that there are more and more of them and that they are reaching new milestones. Tere Morató, who is in the First Division, or Maria Ruzafa, who plays in Italy, are now joined by the first two footballers with ID from the Principality who will play in the university league in the United States.
It is about the young Lia Gil and Neus Rosas, who this coming season, and if all goes well, over the course of the next four years they will wear the jersey of the University of Iowa Western after playing the last years with the 'ENFAF and share the elastic of the national team. "It was a very good opportunity! When it came up, I didn't think twice about it" remembers Gil; for her part, Rosas comments that "Lia suggested that I accompany her and I liked the idea. When I proposed it at home, at first my mother flatly refused, but with my father we succeed in convincing".
The first contacts they made with the universities, but they didn't end up going the way they wanted. The first ones interested in taking them to the other side of the Atlantic were not in the same state, not even close. One was in Virginia while the other was in Texas. 
"When I saw that we had to go separately, I got cold and I no longer saw it so clearly," remembers Rosas. However, in the end, the opportunity arose for Iowa Western, which was fully convinced to take them both.
The coach of Iowa, Adam Sanchez, traveled to Andorra to get to know first hand who would be his new pupils. "Both in terms of facilities, accommodation, football team…Iowa was the university that best suited what we wanted. Really, we're going to be practically professional football players," said Gil. It should be remembered that the American university league, outside of professional competitions, is the most important in the world and where a large part of the players of the current World Champion, the United States national team, and a large part of the soccer players have gone through of the North American League.
Soccer players and students
Both players are clear that in no case do they want to leave aside their training. Neus is committed to studying teaching and Lia Decoration and Interior Design. However, it must be remembered that the American university system is different and that the first two years are common subjects and specializations come later, from the third. "I'm clear that I want to be here for the four years and in the end we'll see" says Gil, while Rosas explains that "at first I only wanted to do half the race, but now I think that, if I feel comfortable, I will do the whole race here". The American adventure begins next July 28.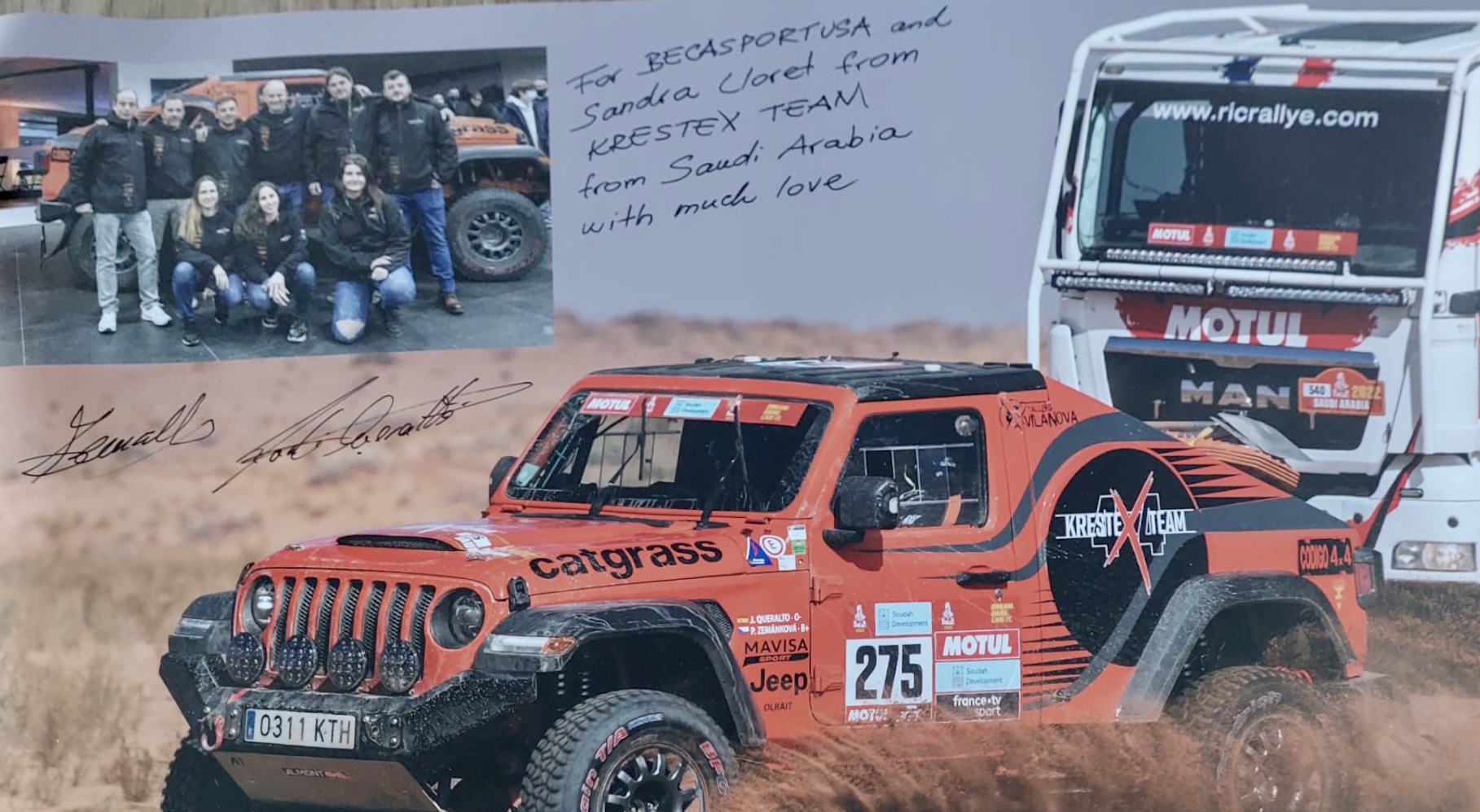 Jordi Queralto and Petra Zemankova fulfill a dream, compete in the DAKAR
The Dakar is lived in many ways, as many as there are participants in each edition. In the case of Jordi Queralto and Petra Zemankova, it is lived and enjoyed as a couple. Husband and wife tried their luck for the first time in the 2020 edition. Queralto says that as a child he hated cars because he went every weekend with his parents to a village in the center of Catalonia and to get there they crossed roads with thousands of curves. Because of this, he would end up dizzy and vomiting whatever he had ingested… but at the age of 13 his mother taught him to drive a 1964 SEAT 600 and that was the turning point. From then on he enjoyed going into town to practice with the old car. 
"Since the first editions of the Dakar, I was excited to see the riders being able to do the adventure and for me it was a dream that I could hardly ever achieve. But sometimes life pays you back for all the effort you put in and you can reach milestones that seemed unattainable," he says. His Jeep Tanker owes its name to Tan, the preparer, and Ker, "a combination of Queralto and Krestex Team", as well as meaning tank in English; this is what they hope their endurance will be like. Queralto and Zemankova hope to cross the finish line together, but on the way they want to enjoy again this particular adventure on the other side of the world and continue discovering the mysteries that the Saudi Arabian desert still preserves.
Dos Andorranas en Estados Unidos
Andorra la Vella.- El fútbol femenino andorrano cotiza al alza. Si hace unos años se contaban con los dedos de una mano, y todavía sobraban, las jugadoras que estaban más allá de las fronteras del país, hoy es una realidad que cada vez hay más y que éstas alcanzan nuevas metas. A las Tere Morató, que está en Primera División, o Maria Ruzafa, que juega en Italia, ahora se les suma las dos primeras futbolistas con DNI del Principado que disputarán la liga universitaria estadounidense.
Se trata de las jóvenes Lia Gil y Neus Rosas, que esta próxima temporada, y si todo va bien, a lo largo de los próximos cuatro años se ataviarán con la camiseta de la Universidad de Iowa Western después de jugar los últimos años 'ENFAF y compartir la elástica de la selección nacional. "Era una oportunidad muy buena! Cuando surgió, no lo pensé dos veces" recuerda Gil; por su parte, Rosas comenta que "Lía me propuso acompañarla y me gustó la idea. Cuando lo propuse en casa, primero mi madre se negó en redondo, pero con mi padre la dimos conseguir convencer".
Los primeros contactos que realizaron con las universidades, pero no acabaron de salir como ellas querían. Las primeras interesadas en llevárselas al otro lado del Atlántico no estaban en el mismo estado, ni siquiera estaban cerca. Una estaba en Virginia mientras que la otra se encontraba en Texas. 
"Cuando vi que teníamos que ir separadas, yo me enfrié y ya no lo veía tan claro" recuerda Rosas. Sin embargo, al final, surgió la oportunidad de Iowa Western, que estaba plenamente convencida de llevárselas a ambas.
El entrenador de Iowa, Adam Sanchez, se desplazó hasta Andorra para conocer de primera mano las que serían sus nuevas pupilas. "Tanto a nivel de instalaciones, alojamiento, equipo de fútbol… Iowa era la universidad que más se adaptaba a lo que queríamos. Realmente, seremos prácticamente profesionales del fútbol" decía Gil. Cabe recordar que la liga universitaria americana, fuera de las competiciones profesionales, es la más importante del mundo y por dónde han pasado gran parte de las jugadoras de la actual campeona del Mundo, la selección de Estados Unidos, y gran parte de las futbolistas de la liga estadounidense.
Ambas jugadoras tienen claro que en ningún caso quieren dejar de lado su formación. Neus apuesta por estudiar magisterio y Lia Decoración e Interiorismo. Sin embargo, cabe recordar que el sistema universitario norteamericano es diferente y que los dos primeros años son asignaturas comunes y las especializaciones llegan después, a partir del tercero. "Tengo claro que quiero estar los cuatro años aquí y después ya veremos" dice Gil, mientras que Rosas explica que "primero sólo quería hacer media carrera, pero ahora creo que, si me siento cómoda, sí que la haré toda aquí". La aventura americana les comienza el próximo 28 de julio.
We have shared our project with the member of the Parliament of Catalonia Eva Candela.
Today we had the pleasure to share our project with the member of the Parliament of Catalonia Eva Candela. Accompanied by our player @_alba.lopez_14 and her family we shared our experience. We would like to thank Ms. Candela for the treatment received.
@becasportsusa
Appearance of our sportswoman Marta Forné in the newspaper Olé
The sports newspaper Olé conducted a very interesting interview with Marta Forné. In it, Marta tells us about her experience and how her selection process was developed by Beca Sports Usa.
In order to be admitted, he had to follow several steps. First, he submitted a soccer resume detailing the position he plays, his height, the leagues in which he competed and a video of his outstanding plays. Then it was time to take an English placement test and he says that this was the most complex part: "I had to take the TOEFL and my English level is not that good, so that part was not easy.
After taking the corresponding exams, the benefits granted by the university are defined and the Argentine Luana Muñoz, who currently plays for Racing, says: "I was able to get a 95% scholarship at the first university (Tyler Junior College) and a 100% scholarship at the second (University of Texas). This covers tuition, books, classes, food, apartment, but everything is always subject to the percentage of scholarship you get.